What are the Top 10 Best Wall Mounted Fan in India? This an electric appliances in your office or home. A wall fan is an ideal option for cooling small spaces and rooms such as office, restrooms, kitchens, hallways and studio spaces.
This is a small fan that is mounted on the wall of a room for air circulation. A wall fan price is very less that a cooler or AC. These fans are quite easy to install and come with three different speed configurations. These fan comes in variety of wattage and RPM. Popular brands include: Havells, Orient, Crompton, Bajaj and Usha.
Also Read: Best Pedestal Fans in India 2021 – Review & Buyers Guide
This is either made up of high-grade plastic material or any other kind of metal. Wall fans commonly have three blades. The blade size can differ according to manufacturer and model. In this article we are discussing some of the best fans available in market with price.
We highly recommend you to Read: Best Wall Mounted Fan Buying Guide at the end of this article. For in depth knowledge about wall mounted fan, their application area, how wall mounted fans are different from ceiling fans and What are the things to consider while buying wall mounted fan.
These fans are very convenient for use some wall mounded fan comes with remote control. Some of the top brand fan include havells, crompoton, bajaj etc. You should also check new article on Best Honeycomb Pad Coolers 2021 .
Top 10 Best Wall Mounted Fan in India 2021
1. Havells Platina 400mm Remote Wall Fan
Havelles fans are the best wall mounted fan. Havells Platina 400mm Remote Wall Fan can easily be mounted on any wall in your home and fill the room with cool and fresh air. This is beautiful and elegant fan that is sure to add to the great looks of your room.
It can be installed in your kitchen and ensure that you are cool and comfortable while cooking. With its three blades, this Havells wall fan delivers air at a minimum speed of 72 cubic meter per minute.
Havells Platina fan comes with robust 50W motor which ensures that the fan can work continuously for hours while maintaining high speed.
It comes with remote control unit which allows you to control its operation from distance.
This fan has built-in thermal overload protection feature. This feature extends the life of the motor so that you can enjoy its benefits for a long time.
Aerodynamic blades can deliver up to 72 cmm of air volume in any direction.
Air delivery (cmm):72 Speed (RPM): 1360 Height from base: 1365 mm
2. Havells Swing Dzire 300mm Wall Fan
Havells Swing Dzire 300mm wall Fan delivers beautiful performance with very low power consumption. It is an elegantly designed fan base which suits to any type of f interior design.
It also has, the five transparent blades of the fan added to its attractiveness. Its rotational speed is of 1350 RPM and air delivery of 50 CMM, you can easily enjoy cool breeze with this Havells Wall fan.
It comes with pull cords to adjust speed and oscillation depending on requirement of air.
It works on just 50 watts of power, thus this fan helps in saving electric energy.
This fan is equipped with a 300-mm sweep and smooth oscillation for uniform cooling.
It comes with 5 Leaf Transparent Blades.
It is an Elegantly designed fan base with Stylish and contemporary look .
3. Havells Ciera 300mm Cabin Fan
Havells Ciera 300mm Cabin Fan provides fresh and breezy air all around your cabin. It is a unique product which allows you to get cool air from almost any direction while you are sitting on your office chair.
This fan has a robust and speedy motor that performs superbly. It has gyroscopic movement to provide air circulation throughout your cabin. It also has an outer grill which protects against accidental touch.
It has high speed motor for higher air delivery.
It is ideal for mounting on low height cabin.
For protection purpose it comes with a outer Grill.
This fan has an air delivery of 75mm that enough for even a big office.
This fan can be positioned to rotate in any direction and can also be placed in still mode whenever you are out of the cabin.
This cabin fan is ideal for a comfortable and relaxed working environment.
4. Bajaj Ultima Wall Fan
Bajaj Ultima Wall Fan is very effective in small areas such as bathroom, kitchen and small cabins. Its speed motor gives comfortable and breezy air with personal comfort cooling.
This is made up of Superior technology for enhanced thrust. This fan delivers air at a minimum speed of 50 CMM and sweep of 200MM.
Its motor works on: 48 watts thus it saves electricity.
It is an elegantly looking fan with seek and stylish body which can suit for any type of interior design.
This fan is made up of Superior technology for enhanced air thrust.
It is designed with Unique pivot arrangement for tilting
It has Aerodynamically designed PP blades

Also Read: Best Ceiling Fan in India

5. Havells Birdie Personal Fan
Havells Birdie Personal Fan is made up of unique design to allow 360° rotation of fan head both in horizontal & vertical plane. It is a Multi-use fan which can be used on desk, wall or mounted on a wall.
It has an elegant spiral mesh guard with show cap gives a touch of grace. It has 2 pole capacitor types motor its delivers strong air blast at 2800 RPM.
It is a Multi-Use fan suitable for use on desk, wall or cabin/deck mounted application.
It has Powerful energy efficient 2 pole capacitor type motor to deliver strong air blast at 2800 RPM with very less power consumption.
It has elegant spiral mesh guard with guard ring built with show cap gives a beautiful look.
It provides maximum air efficiency because it is aerodynamically designed with aerofoil section.
This fans Air delivery is up to 38 CMM and speed is 2800 RPM, It uses power of 55 watts.
6. Crompton HiFlo Wave Table Wall mount Fan
Crompton HiFlo Wave Table Wall mount Fan is a sleek and stylish range of pedestal fans that are perfect for hot and humid conditions. This fan will help in providing relief from the scorching summer heat. This crompton fan price is available in e commerce websites.
It is rich in features with a powerful motor. This pedestal fan is also versatile and can be used if there is any party, weddings or other functions where cooling is required.
It's Plastic blades provide a modern beautiful look
It has a powerful motor, which is robust and versatile.
The rotation speed is of 1300rpm and a sweep of 400mm that ensures cool air in every direction.
This fan also has sleek speed control panel.
7. Orient Electric Orient Wall Fan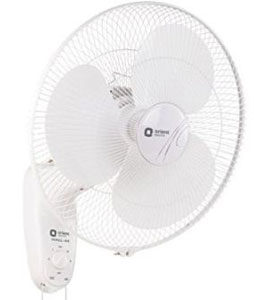 Orient Electric Orient Wall Fan is made up of 3 blades with powerful motor for higher air delivery. It is controlled by pull cord system.
It is secured by an outer ring for protection against accidental touch. This fan also has tilt adjustment for adjusting at desired angle.
It has Aerodynamically designed resin blades which give high air thrust.
It's made up of Powerful motor for higher air delivery.
It also has Powder coated guard with flexible ring.
It's Oscillation and speed is control by pull cord system.
8. Havells Swing Wall Fan
Havells Swing Wall Fan is made up of powerful motor which is capable of delivering high speed air. These wall fan is an ideal choice for your homes as well as office. This wall mounted fan has a beautiful and stylish base.
The base consists of all the controls displayed on it and makes it convenient to use. Along with providing cool breeze, this fan also looks attractive when installed in your house.
This fan is easy to use as it has a pull cord control to change speed and also shut the oscillation into on or off position.
Aerodynamically blades are designed to enhance its performance.
It consumes 45W of power so it saves lot of electrical energy.
This oscillating wall fan provides better and uniform air flow to each and every part of the room.
It also delivers good speed of 1330 RPM.
9. Usha Maxx Air Wall Fan
Usha Maxx Air Wall Fan is beautifully designed with wonderful features in it. This fan is up of a powerful motor which is suitable for Indian homes. It has unique pivot arrangement for tilting and oscillation.
It is designed with uniform oscillation and jerk free.
It is aerodynamically designed with semi transparent Plastic blades.
This fan delivers breezy and cool air in every corner of the room.
It is made up of highly powerful motor and consumes 55 watts of power.
10. Bajaj Esteem Wall Fan
Bajaj Esteem Wall Fan not only provide cooling and energy efficiency but also enhance the interior look of your home. Hot weather makes fans a must-have for every room.
This fan is made up of full copper motor which operates silently without noise. It is a durable fan in which oscillation and air is control through pull cords.
It is made up of full copper motor with longer life.
It has special noise less feature and is operated silently.
The oscillation and air is controlled by pull cords.
Since its motor is made up of copper it is highly durable
Its motor use 50 watts of power and air delivery is up to 70 CMM
These are Top 10 Best Wall Mounted Fan for your home in India. You can compare features and price and select the best fan for you.
---
Best Wall Mounted Fan Buying Guide
Even though many types of fans are released, Wall Mounted Fans also got high demand in the market. These are mostly used in shopping malls, offices, restaurants, etc.
What are advantages of wall mount fan
These fans are easy to clean and install and consumes less power.
Such fans comes in variety of RPM (Round Per Minute). You can select according to your room space.
Some fans also had remote control while others can be operated by cord.
They fit in areas where other fans won't fit such as corners in room, near kitchen windows etc. because they are small in size.
Wall mounted fans comes with elegant designs and contemporary models which gives cool look to the interior of the room and they are cheap too.
These fans supply sufficient ventilation in every small corner of the room or cabin.
Blades of these fans are designed to supply air at required speed to maintain the ventilation and cooling effect in the cabin
Where can i use Wall Mounted Fans
These are used in various places like
Health clubs
Entertainment Venues
Stores and shops
In the process of product drying.
Domestic and office use.
Warehouses and factories.
Sports centers and Gyms
Community centers and village halls.
You can also place the wall mounted the fan in a particular position that induces air flow through proper ventilation by the windows. This is highly useful in summer because the air inside the building will be hot compared to the air outside the building. The outside air flow through windows using fan brings inside the building and hence makes it cool.
Features of Wall Mounted Fans
Before buying the wall mounted fan, you should know the features of it. Choose the fan according to its features like size, quality or the mounting arrangement etc.
Size: The sufficient airflow depends on the size and the fixing of the wall mounted fan. It is better to purchase a large fan running at slow speed than a small fan running at full speed.
Build Quality: Lightweight fans are best suitable for domestic or office use. They are not suitable for industrial applications. Industrial wall mounted fans are a little expensive due to their durability and toughness.
Speed: The control among the speed of the fan is considerable because sometimes you need a fan speed high and sometimes may be low. So, it is better to have a large fan with low or medium speed than a small fan with high speed. In this way, you can meet your requirement and will last longer.
Timer: It is usually found on domestic models. It is used to move air in a bedroom and then automatically switch off.
Remote control: Some of the wall mounted fans have remote controls. It is important to know whether your fan has a controlling function as a backup.
Adjustable angle: The angle that the fan head fixed at the wall. Wall Mounted Fan should fix above the head height in order to not to be knocked and also be less tampered. You can also adjust the airflow by directing the head of the fan to the required place.
Mounting Arrangement: You should also take care about the quality of the wall where the fan is to be mounted in order to avoid damages and accidents in the future.
Oscillation: This function is used to spread the air over a wide area at any point in its arc. Usually used in large rooms to receive the air for more people.
Popular Brands in the Market
Havells
Orient
Crompton
Bajaj
Usha
How Do Wall Mount Fans differ from Ceiling Fan
There are two important parts in fans. They are 1. Motor and 2. Armature
In-ceiling fans, the armature is stationary and the motor moves in the counterclockwise direction. The blades of the fan are attached to the motor, so the ceiling fan is going to rotate in an anti-clockwise direction. Whereas coming to wall fan, the motor is stationary and the armature helps the fan blades to move. So, the blades of the table fan are attached to the armature makes to move in clockwise direction.
Ceiling fans are placed on the ceiling and have good air circulation throughout a large room. These fans will also reduce electricity bills. These are used in a bedroom or living area, kitchen, etc. On the other side, the Wall Fans are placed on the wall on a mount and are adjustable. You can get comfortable air because of its oscillating head. These are used in residential and commercial needs.
Wall fans are easy for installation and are safe because of lightweight. These are cheaper and are designed in various models to look at your home more beautiful. In some models, you can also operate them by remote control. The ceiling fans are a little tough for installation and are safe at proper installation. These are a little expensive compared to wall fan.
Things to Consider When Buying a Fan
Why do I need a fan?
Heavy-duty fans are used in commercial settings in large, open spaces and give required cooling. Residential fans are suited for personal uses like the bedroom, living room, etc. Misting fans disperse water are best suited for an outdoor environment. Water damage restoration fans are used in an indoor environment that has continuous water damage. Ceiling fans are best suited for commercial needs. Wall fans are used in commercial and residential needs.
What type of fan do I want?
Tower fans have a vertical housing unit where the cool air stretches along most of towers height.
Freestanding floor fans included a traditional blade and housing design attached to an upright pole.
Desk and tabletop fans placed atop countertops and desks without comprising space.
Centrifugal fans have blades oriented perpendicular to the airflow and are used for water damage restoration due to their higher pressure production.
Choose the type of fan according to your requirement.
Where am I going to put the fan?
The location of the fan will depend on fan size, type, power requirements, and cooling capability. There are different types of fans like desk and tabletop fans, freestanding floor fans, and portable/adaptable fans. Some of the fans have a remote control and longer power cords which can be placed at the less accessible area which gives greater cooling impact. A home with pets needs an air circulator with safe housing and technology to avoid pet dander and hair build-up.
Choose the location according to your requirement.
How powerful does the fan need to be?
Airflow can be measured in CFM(cubic feet per minute), which measures the volume of air flowing by every 60 seconds. Boneco fans are known for high CFM, programmable timers, and etc. Phoenix air movers are energy conscious products.
What features do I want?
One of the important features is oscillation. It gives airflow across the room or focuses it on a certain spot. The other features to be considered before buying a fan are adjustable airflow direction, remote control access, low noise output, multiple fan speeds, power options, programmable timers, and mobility.
What are the best fan brands in India?
There are several popular brands available in India with good quality fan. Few popular brands are: Bajaj, Havells, Usha, Orient, Crompton etc.